Dear readers, I didn't intend to make this list so long, but there's so much good bookish stuff out there this year that I couldn't help myself. I present to you my wish list (and maybe yours).
1. Book darts
These magical little bookmarks are invaluable for not only marking your place, but prepping for book club (or blog post writing). Mark not only your page, but the exact line you want to remember. Take it from a convert: once you try them you can't go back to your old bookmarking ways.
Find Modern Mrs. Darcy and What Should I Read Next book darts in our Modern Mrs Darcy shop, or get generic ones here.
2. Deluxe reading journal kit.
Just in time for the New Year: start (or start again!) your reading journal, bullet journal, or memoir with our favorite items. The deluxe reading journal kit includes one best-of-class Leuchtturm journal in your choice of colors and a sampling of Anne's favorite pens—one black or blue, two colors, and one dry highlighter. The deluxe kit also includes a full tin of book darts and three fun stickers. Save $10 off a $40 shop purchase with the code BOOKLOVER, through December 10.
3. Book weight
A beautiful book weight holds your book open and looks good doing it. An essential for writerly types. My own book weight is technically a trivet, but it does the job just fine. This is another classic option, in leather.
This set from CW Enterprise includes 6 graphite pencils that are dark enough to be clearly legible, but not so dark they smudge, or so firm they're not erasable. Each also has a better-than-average eraser. This lefty sampler set would make the right person very, very happy. Don't forget the sharpener.
5. Fountain pen
Lamy makes high-quality pens at an affordable price. The Safari (most popular) and Vista (my personal choice) are solid, affordable options for those new to the world of fountain pens.
6. Pencil pouch
I especially love this What are you reading now? pouch from the New York Public Library, and this dahlia pencil pouch from Kate Spade.
7. "Be right back" brass bookmark
Let them keep their place in style. I also love the "to be continued" option.
Want more options? Try the hand-stamped, upcycled spoon collection from Stamp and Soul, including "one more chapter," "I read past my bedtime," and "Bookmark? You mean Quitter Strip."
8. Page Anchor
This nifty (and beautiful) tool keeps books open without you holding them, removing the hassle of reading while doing something else (think: reading, cooking, tea-sipping).
9. Plum Deluxe Reading Nook Blend Tea
Delight your tea-loving reader with the Reading Nook black tea blend from Plum Deluxe. I'm also quite fond of their Meadow Walk herbal tea, and their Advent or monthly subscription will delight any tea lover.
10. Cookbooks worth reading
I cook from these books, but I also love to sit down with a great cookbook and read it like a novel—a novel with tons of great photos, that is. Try Smitten Kitchen Everyday (Amazon |Barnes and Noble | IndieBound), Well Fed Weeknights (Amazon |Barnes and Noble | direct from author) or Salt Fat Acid Heat (Amazon | Barnes and Noble | IndieBound).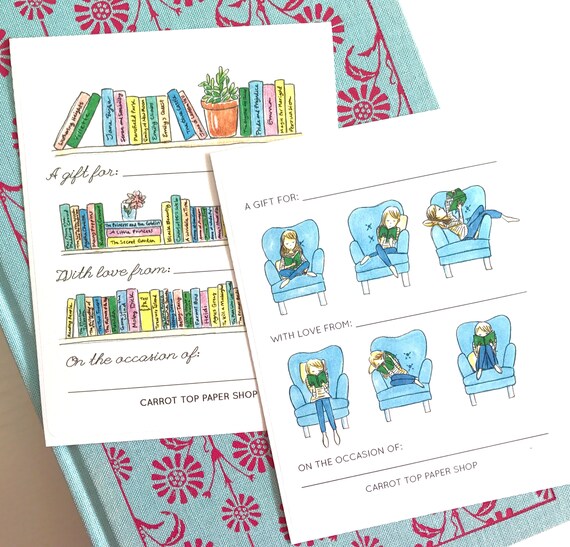 11. Handdrawn book love
I adore (and own!) these personalized bookplates from Carrot Top Paper Shop. Pair with this Sorry, I'm Booked tote for a  memorable gift.
This is one of the best gifts we've ever given my daughters—they've asked us to restock their cards this year. But it's not just for kids; several adults I know use this to up the odds the books they loan out get returned to them. Also: it's sooo fun. (Amazon | Barnes and Noble | Book Depository)
13. A bookish subscription
Got a literary fiction lover in your life? Consider a First Editions Club, like those run by Parnassus Books and Book Passage, and they'll get a new, carefully chosen hardcover (often signed by the author) in the mail every month.
Or try A Novel subscription from The Novel Neighbor in St. Louis, and send your loved one a staff-selected, recently released hardcover book as often as you choose (monthly, bi-monthly, or quarterly), customized to each reader's taste.
Two more of my favorite independent bookstores also started their own shelf subscriptions this year: check out the Shelf Subscription from The Bookshelf (Thomasville, Georgia) and the Matchbox Subscription from Main Street Books (Davidson, North Carolina).
14. Book of the Month 
Every month Book of the Month pores through hundreds of newly published titles and selects the five best to share with their members. Membership is easy and fun; the selections are interesting and varied, and because you can skip a month whenever you choose, your loved one will never be stuck with a book they don't want. I gave myself this gift last year and have been enjoying it all year long.
15. All the essentials for a cozy reading experience.
The delightful subscription service Page 1 Books has the perfect gift for your favorite book lover, or for yourself. Their limited edition Cozy Reader Bundle contains 1, 2, or 3 books specially chosen for the recipient, cozy wool-blend socks, a bath bomb, library card mug from Out of Print, Starbucks cocoa, a literary candle, and a bar of Theo's chocolate. Order by November 30; bundles ship on December 5 to arrive in plenty of time for gift-giving and/or cozy reading season.
16. Library love.
Speaking of Out of Print: their library-inspired socks, pencil pouch, or mug would make a delightful gift for your favorite bookworm of any age. And isn't this library card and stamp enamel pin set dreamy?
17. Darling dolls.
Try this handmade adorable Anne of Green Gables worry doll set. Also available: Harry Potter, Frodo Baggins, and Wonder Woman.
18. Beautiful books
Clothbound editions, colorful box sets, or a matching set of classics. Lots of ideas here.
19. A love letter (and a few breakup notes) to books.
Dear Fahrenheit 451 was a delightful surprise. Detroit librarian Annie Spence writes love letters and break-up notes to the books in her life and in her library's stacks. Imagine a younger Nancy Pearl, with a lot more snark and f-bombs, but all the earnest book love. (Amazon | Barnes and Noble | IndieBound)
20. The Complete Jane Austen collection.
I found these under my tree a few Christmases ago (Thanks, Mom) and they're one of the highlights of my bookshelf. (Amazon | Barnes and Noble | IndieBound)
21. Modern bookends
I love these inexpensive and classy pineapple bookends I found this year, as well as these fun and sturdy A to Z bookends (also available in gold). I still adore this beautiful handmade modern bookend that I found under my tree last year.
22. The bookshelf of their dreams.
The Ideal Bookshelf mugs, coffee table book, or custom print will delight the bibliophile in your life. Or yourself.
23. Light up the room.
Turn your in-progress book into a glowing nightlight with this nifty book rest lamp. (Uncommon Goods | similar at Amazon)
24. Notes for living on planet Earth
For young or old, the new Oliver Jeffers book Here We Are is sure to delight. (Amazon | Barnes and Noble | IndieBound)
25. Folded book art.
Isn't this amazing? Buy on Etsy, or make your own. For a simpler project, DIY your favorite bibliophile this book page wreath.
26. Books and booze
Try these favorite, entertaining recipe books from Tim Federle: Tequila Mockingbird (Amazon | Barnes and Noble | IndieBound), Gone with the Gin (Amazon | Barnes and Noble | IndieBound), or Hickory Daiquiri Dock (Amazon | Barnes and Noble | IndieBound), and pair with a bottle of something your loved one will enjoy.
27. Bath caddy.
A gift that keeps on giving: give your loved one a place to hold their candles, cup of tea, and book so they can enjoy luxurious soaks in the bath all year long.
28. Next best thing to a real card catalog.
Try this card catalog: 30 notecards from the Library of Congress. (Amazon | Barnes and Noble)
29. Love where you live.
Bibliotherapy: moving edition. Give the newly- or soon-to-be-settled person in your life this wonderful book from Melody Warnick: part memoir, part self-help, 100% enjoyable guidance on loving the place you live:  This Is Where You Belong: Finding Home Wherever You Are. (Amazon | Barnes and Noble | Indiebound)
30. Socks with a message.
If you can read this, please bring my book. Nothing else to say.
31. Modern Mrs Darcy Book Club gift subscription.
This option is brand new! Make someone's month–or year–with a Modern Mrs Darcy book club membership. 3 month membership available in the shop.
32. Signed copy of my book Reading People.
This is great holiday season-reading, and the rich color and beautiful gold accents make this book especially well-suited to giving—for your loved one or for yourself. Get your copy—signed and personalized however you choose, from my local indie Carmichael's bookstore. Just tell them when you order what you want me to write in your copy. Or purchase wherever new books are sold: Amazon | Barnes and Noble | IndieBound | Book Depository. For current codes from Amazon and Barnes and Noble, click here.
Happy shopping, and happy reading!