For the Jane Austen fan in your life (and that may very well be YOU): 17 gifts she'll adore.
1. Her favorite titles in one place.
In the pretties editions, of course, thanks to this Austen Poster from the Ideal Bookshelf. There are so many gorgeous Austen editions out there that three different Austen posters are available. Choose your favorite, or gift all three to your favorite Janeite.
2. Coffee table conversation piece.
Margaret Sullivan's Jane Austen Cover to Cover: 200 Years of Classic Book Covers is total coffee table material, beautiful to display and worth reading again and again. Containing over 200 images showing Jane Austen's evolving cover art through two hundred years of publication, covering everything from the original editions to Pulp! The Classics—will have Austen fans drooling. (Amazon | Barnes and Noble | IndieBound)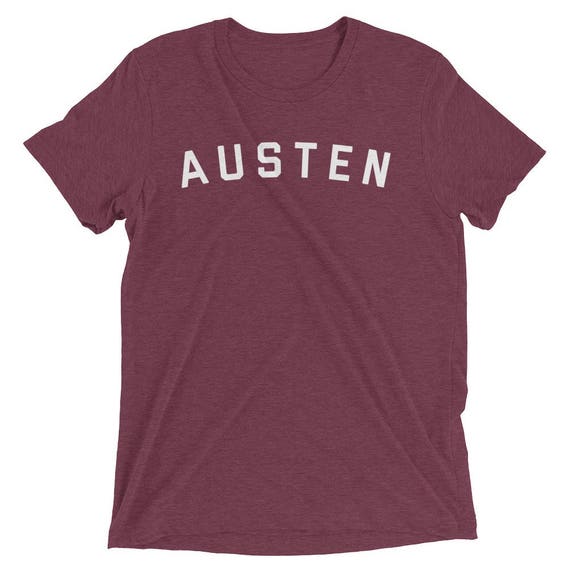 3. Wear Jane with pride.
I would totally wear this (hint, hint) fun Jane Austen tee from Etsy shop Exploring with Words. More styles available, but this is the one I'd want to find under my tree.
4. When only the best will do (for your lists, at least).
This Emma spiral notebook from Kate Spade is pretty inside and out, with 112 lined pages to write your deepest thoughts or your to-do list. Your favorite Emma devotee may also love this Emma pencil pouch.
5. Jane-inspired stress relief.
Give the gift of coloring (like an accomplished woman, of course) with this Classic Coloring Book, featuring scenes from all six of Austen's primary works. (Amazon | Barnes and Noble)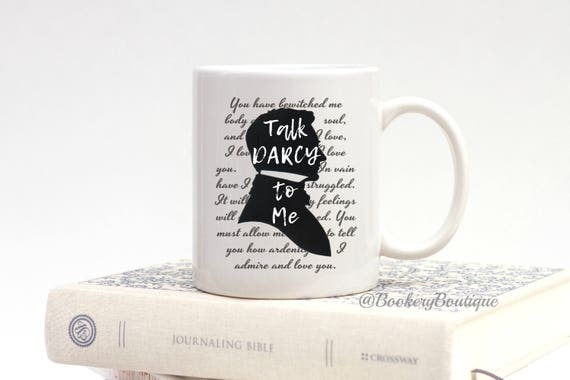 6. By all means, yes.
Make her mornings with this Talk Darcy to Me mug, from Bookery Boutique on Etsy.
7. A glimpse into Jane's soul.
This pretty little gold-tinged hardcover holding The Prayers of Jane Austen offers a more personal look into the author's thought life. (Amazon | Barnes and Noble | IndieBound)
8. A personal desktop muse.
Let this Jane Austen action figure bring your Austen fan joy every time she sits down to her desk.
9. Austen-inspired entertainment.
In the new strategy card game Marrying Mr. Darcy, players take on the role of female Pride and Prejudice characters, and work to improve themselves and attract desirable suitors. The player who attains the best marriage wins the game, of course.
10. Indulgence for the imagination. 
Downton Abbey meets Pride and Prejudice in Jo Baker's Longbourn: A Novel, a retelling of Austen's classic from the servant's perspective. Austen fans love it or hate it, but it's excellent fodder for discussion either way. (Wait till you see what she did with Mr. Wickham!) (Amazon | Barnes and Noble | IndieBound)
Positive she's already read it? Try one of these 7 Austen riffs and retellings.
11. Raising (Austen) readers.
BabyLit has your favorite Austen fan covered, whether young or old. Favorites include this Mr. Darcy doll, tote bags (including Jane Austen and other beloved authors), notebooks, and this darling play set. A wide variety of BabyLit books (more every time I look, it seems) are available at Amazon, Barnes and Noble, and IndieBound.
12. A cup and a smile.
Bingley's Teas has you covered: choose from Compassion for Mrs Bennet's Nerves (chamomile, peppermint, and passion flower), Lydia Had More Fun (a blend of Rooibus and flakes of coconut shreds), Mr. Knightley's Reserve (Earl Grey), and more. They also sell beautiful tea filters.
13. A protagonist she can root for.
In A Jane Austen Education: How Six Novels Taught Me About Love, Friendship, and the Things That Really Matter—part memoir, part literary criticism—William Deresiewicz tells the story of how he had zero interest in reading Jane Austen, but then he was forced to read Emma for grad school. This is his story of how—and why—he fell in love with Austen's works. The chapter on Mansfield Park is my favorite.
14. Equip her for a favorite Austen pasttime…
And give her everything she needs to write a good letter with this beautiful literary stationery set, complete with twenty notecards and envelopes, embossed gold seal stickers, a pocket journal, and lovely and practical box for storage. (Amazon | Barnes and Noble | Powell's)
15. A cozy introduction to great books.
Delight her with her favorite classics, board book-style, told in 12 words and illustrated with 12 beautiful needle-felted illustrations. Not just for kids. Austen fans can choose from Pride and Prejudice and Emma, but many other favorite titles are available. (Amazon | Barnes and Noble | IndieBound)
16. Suitable for framing.
If you can get your hands on a British 10-pound note, your Austen lover won't want to spend it.
17. The jewels of her bookshelves.
The seven books in this Penguin Classics box set—Sense and Sensibility, Pride and Prejudice, Mansfield Park, Emma, Northanger Abbey, Persuasion, and Love and Freindship (early writings and juvenilia)—are essential titles for any Austen lover's personal library. And they're gorgeous. (Amazon | Barnes and Noble | IndieBound)
What are your favorite Austen-themed gifts? What would you add to the list?